Book A Minibus To Heaton Park Manchester.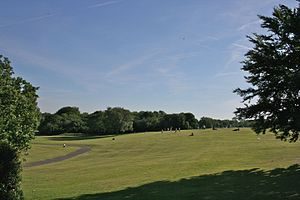 Heaton Park is a massive park covering over 600 acres – it is owned and managed by Manchester City Council and is one of the largest municipal parks in Europe. Just a few miles north of the city centre we have been supplying minibuses to here for a long time, it is suitable for all from babies to pensioners. It really is much more than 'just a park' and has lots of activities and facilities that draw visitors back time and time again. The park has a varied and fascinating history. Between the mid 1300's and the beginning of the 20th century it was owned by just two families. Originally owned by the Holland family, it passed through the generations until 1684 when Elizabeth Holland (the last member of the family line) married Sir John Egerton. In 1772, Sir Thomas Egerton built a new home in the park for himself and his wife. Heaton Hall and many other buildings commissioned by Thomas Egerton can still be seen around the park today. Heaton Park remained in the Egerton family until 1902 when it was sold to the Manchester Corporation (now the council) for £230,000. The corporation provided many public facilities and it attracted thousands of visitors. By the end of the 20th century the park was restored with a Lottery funded grant in partnership with Manchester City Council. This allowed restoration of some of the old buildings and extensive landscaping.
In the present day the park hosts an array of events, activities and functions. It is used for fun runs, concerts, festivals, bowling, fishing, golf and football – and much more. It is of course, also the ideal place just to take a leisurely stroll, relax and unwind and blow away the cobwebs. There is a lovely boating lake, children's play areas and an orienteering course if you want to push yourself a little. The park is also home to the very popular 'Animal Centre' which is open all year round. The centre has a wide variety of farm animals such as pigs, geese, cattle, sheep and goats – as well as rabbits, guinea pigs, alpacas and donkeys!
If you fancy taking the weight off your feet, then you can catch the tram. Since 1980, restored Manchester trams have been running through the park on selected Sundays and most Bank Holidays. The Heaton Park Tramway is staffed by volunteers and operates from the Tram Shelter giving rides through the park on beautifully restored trams.
We Have The Experience Your Looking For.
There are a lot of events that take place in Heaton park. We are familiar with the best place to drop you off and pick you up because we have been supplying minibuses for people going to events here for years, don't get caught out when you are going to Heaton park there is usually free buses that run here for large events and concerts but the queue can be over a 2 hour wait, we can supply you with a 16 seater minibus from only £3 per person, is that really worth a 2 hour queue?