Legoland Discovery Centre Manchester.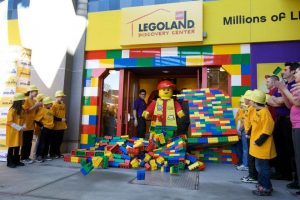 Lego began manufacturing their much loved model bricks in 1949. Since then it has gone from strength to strength and generations of children have become obsessed with the various models that can be made – not to mention the associated games and movies that go with it. By 2013 it is estimated that a total of around 560 billion Lego parts had been produced.
The Legoland Discovery Centre at Manchester's Trafford Centre (only a 10 minuet ride in a minibus,) really is a child's delight (and big kids will love it too!) and is suitable for a family day out, a school trip or even a birthday party. It is exactly what you would expect – like walking into an enormous box of Lego bricks! Of course there is more to the venue than just plastic bricks. You can join in the battle on Kingdom Quest – this is an interactive Lego laser gun ride, where you play the noble knight as you zap the spiders, skeletons and trolls in order to save the captured Princess. Then there is the 4D cinema which allows you to experience a thrilling movie adventure – much more than just 3D glasses, this will have you jumping out of your seat and travelling to an extra special 4th dimension- which can involve dramatic lighting effects and even snow fall onto the audience!
Perhaps the most exciting part of the attraction is the factory tour – this provides the opportunity to help in the production of real Lego bricks. You will meet Professor Brick-a-Brack who will guide you through the factory, where over 100,000 special bricks are made every year.
For any budding architects, a visit to the in-house Master Model Builder is a must. The builder is responsible for all of the intrinsic buildings, animals and models of heroes that are on display around the centre. The Master Model Builder's workshop offers hands-on tuition in how to recreate models for yourself.
Other highlights include the 'Miniland', which recreates various landmarks from across the Northwest – including Lego versions of Manchester Town Hall and Coronation Street – in intricate detail. There are plenty of hands on activities too, including huge pools of Lego bricks to be as creative as you like with and for the tots, there is a 'Duplo Village' which has soft and safe foam bricks to play with. There is also the 'Fire Academy' which is similar to an indoor adventure playground, complete with climbing wall, slide and a jungle gym. The centre also has the only dedicated Lego shop in the north of England, which stocks many sets that can't be found in other toy stores.
Cheap Prices To Travel There.
A 14 seater minibus to Lego Land is only £45 or maybe if you are a Lego enthusiast why not let us take you the Lego resort at Winsdor you could even stay overnight and return the next day. A 16 seater minibus to the Windsor Lego Resort would be £480 for the return this may seem quite expensive but when you divide this by 16 people its only £20 each way per person. So if you want to go to either of these resorts then why not give us a call to discuss your requirements.