Minibus Hire To Paint-balling Manchester.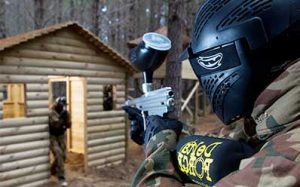 If you fancy a fun, physical game with an exciting edge, then Paintballing is a brilliant option. We have been supplying transport to stag hens and party's for paintballing now for a long time. The Manchester Paintball Arena is just 2 minutes away from Junction 21 of the M60 so is easily accessible to the whole of the North West. It is the largest indoor paintball venue in the area and boasts all of the features of an outdoor site but with the great benefit of no mud or rain! The arena is the closest paintball site to Manchester city centre and is the only UKPSF accredited paintball venue in Manchester. This means it has achieved – and maintains – the highest standards of staff training, safety, equipment and site services, so you know you are in good hands.
All bookings include paintball gloves, guns, paint carrier, body armour and full protective face mask, so you will have everything you need to play the game safely. The venue is open for bookings 7 days per week and games do need to be booked in advance. If you are a lone player or just in a small group, then you won't be excluded – the arena has no minimum group size at the weekends, so you don't have to be part of a massive team to participate. However – if you do want to bring a big group, that's fine too – the venue offers private games for teams of 20 or more at no extra cost!
As Paintballing can be a little 'scary' and the equipment can be quite heavy – the site has a minimum age policy of 11 years old. With this in mind, the venue encourages bookings for 12th birthday parties and the safety equipment and high levels of supervision are all in place for a brilliant and safe time. For players aged 10 – 12 years, the venue has also introduced 'Junior Mini Paintball' which uses smaller and lighter paintballs, therefore resulting in less pain and less mess! The smaller guns are also child friendly, allowing kids to move around easily and make the most of the experience.
Often, Paintballing can be frustrating as you pay lots of money for a game and then it's over in seconds because you have been shot! The Paintball Arena has overcome this by making 50% of their games 'Respawn Games'. This means that for the whole period of the game, no one is eliminated – when you are shot, you simply return to your start point, are wiped down by a marshal, and then you return to the game! This means you have maximum 'play' time and in turn, better value for money.
While the venue offers hot and cold drinks, crisps and chocolate, there are no café facilities – however there is a local pub and a McDonalds & Subway close by, so you won't go hungry!
Book Your Transport With Us.
You can also book your entire day out with us here at ST minibus Manchester why not make a full day of it and book your minibus to take you to for a spot of breakfast to the pub, then to the paintballing and then to Rusholme for dinner at Manchester famous curry mile, before a night on the town. We can accommodate whatever you want to do on your day/night out we have been operating out of Manchester for a long time now and can help you plan your trip. A 16 seater minibus from the centre to Manchester paintball arena one way is only £45 when you book your transport with us.