Canal Street Manchester
Canal street is based in the Manchester city centre and is home to one of the most relaxed atmospheres you'll encounter on a night out. It was in the early 90's that Canal street and its surrounding area became affectionately known as the village. The Village host a variety of pubs, clubs and restaurants, the village is popular with all walks of life and has a day to night vibe.
Where To Eat
On the outskirts of the Village are 2 of the best kept secrets in Manchester, for all you tapas fans there is the molly house, Molly's is located on Richmond street, as well as serving Spanish and south American style tapas dishes it has a tea room and bar. The molly house is decorated with a vintage shabby chic theme, and often has special offers to draw the crowds in. Keeping with the vintage theme Richmond street also has the best, in our opinion, tea room. The Richmond tea room is a great unique place to host a modern hen party, you can order a proper English afternoon tea, or even jazz it up with well earned glass of champagne. Richmond tea rooms also has a movie night where they play the old classics. Both of these fabulous finds are well worth visiting on a day trip to Manchester.
Manchester Pride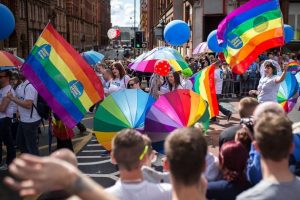 Every year there is the biggest weekend known to the village, it usually falls on august bank holiday weekend, and the LBG community sees 100's of people flock to the village to see the colourful floats pass by. At the end of the weekend is the lesser known about candle lit vigil which is a beautiful way to pay respects to those no longer with us. All the money raised from the ticket sales of Manchester pride gets distributed to charitable causes that desperately need help.
Nightlife In Manchester
The village has some very established pubs and clubs, so if it's just a few quiet drinks or the night of your life look no further. The New union is located at the bottom of canal street and is great starting point, Oscars is the new bar on the block but with its show tunes and cocktails and fantastic live singer its definitely worth a visit, for the more harden clubber you can visit essentials, New York New York, and Cruz 101, if you're looking for shots and cocktails you can visit baa bar, Tribeca or even Piccadilly lounge. There really is something for everybody.
Getting Home
Manchester is also home to some of them most expensive taxis in the country so if you're planning a night or day out around the village make sure you have pre booked your taxi / Minibus with a company such as Us at ST Minibus Hire to ensure you get a good price.